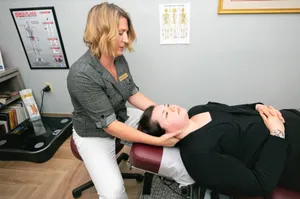 Spinal adjustments are a treatment our Dr. Colleen Krahl of Champion Chiropractic offers Cave Creek, AZ, and the nearby region. These treatments are incredibly versatile and may help with a variety of conditions beyond back pain.
General Information
A chiropractic adjustment is a treatment that consists of our Cave Creek chiropractor ensuring your spine is in the correct alignment for proper nerve function. Through manual and instrument- assisted manipulation, our practitioner restores nerve function and even eases pressure on the surrounding nerves and soft tissue. Ultimately, these treatments assist with relieving pain, weakness, numbness, and other similar symptoms that can interfere with your mobility and entire life.
Some people experience the effects after the first treatment. However, this isn't true for everyone. You may need to have one or more treatments to feel the full effects. People with chronic conditions could benefit from recurring adjustments.
Conditions Chiropractic Alignments Help With
After a comprehensive evaluation, our practitioner may recommend spinal adjustments if you have lower back pain. It's even useful if your back pain is from sciatica and is associated with other nerve-related symptoms.
Our practitioner may also recommend an adjustment if you have degenerative disc disease, spinal stenosis, or another similar condition that could cause you pain back. A chiropractor may suggest alignments if you have headaches as well.
Adjustments can also be used as preventative medicine to try to ward off back problems in the future.
Safety
As a general rule, spinal adjustments are safe for most people. In general, they're associated with few side effects. And the side effects that are felt are mild and only temporary. Some examples include an increase in tiredness and soreness immediately following the procedure.
For some people, an adjustment isn't safe. Thus, our practitioner will thoroughly screen you prior to you having adjustments to ensure it's safe for you. We'll ask questions about your current back condition and the severity of them as well as any other condition you may have that could interfere with the safety and effectiveness of the treatment.
If you're pregnant, for instance, our practitioner will alter the spinal adjustments based on how far along you are. Chiropractic care has been shown to be safe for pregnant women and their unborn children. With this being said, you may need to have the procedure modified a bit. Adjustments are also not recommended for people who are still recovering from fractured vertebrae.
You may receive spinal adjustments from Dr. Krahl of Champion Chiropractic in Cave Creek, AZ, if you have a back injury or chronic back pain. It's even useful for headaches. And our practitioner can alter it to your needs.
Book an appointment with us today by calling 480-595-0001.